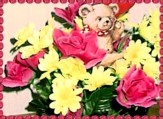 Welcome to HOMunniEs!


HOMunniEs has added a new product to it's store. We want to bring beauty to your home as well as our booboo bunnies. With our flowers you never have to worry about watering or purchasing new flowers. So help us celebrate a new venture for HOMunniEs.

FOR EVERY FLOWER WE PLANT SEEDS!
Springtime Flowers!
HOMunniEs introduces a new product line. Artificial flower pots. With these flowers you can add decoration to you home with out the need for watering and care. We will be adding even more flowers to our collection so stay tuned.
Get it now for $13.95
We are proud to introduce you to our flowers, won't you help us give them a good home. Each of HOMunniEs bunnies has it's own sticker and certificate to tell the type of flowers it is. Browse our flowers to see which one you would like to add in your home.


Spring Flowers
This flower arrangement is created to give your home a more spring look.

Summer Roses
Enjoy our summer Roses early this year. This artificial but realistic rose pot will spruce up any home.