Welcome to HOMunniEs!


HOMunniEs was a small idea that multiplied into something that was fun and it grew from there. Hudlboy wants everyone to know bunnies are NOT for Easter anymore! Now I want to share my homemade handmade booboo bunnies with you! My friends visit the contact page!

SOMEBUNNY LOVES YOU!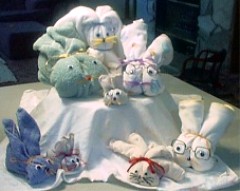 The Bunny Collection
Get to know all the bunnies at once, which includes Blessings Bunny, Grammy Rabbit, Gramps Rabbit, Buddy Bunny, Duster Bunny, Baby Bunny, Big E. Bunny, Booboo Bunny and GATI Rabbit (which is not pictured). This Months Special is not included!
Get them all now for $40.00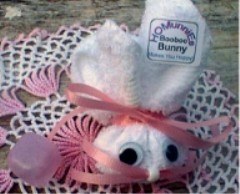 This Months Specials!
Booboo Bunny, Now comes with his own reusable plastic icecube. This is a limited time. We only have so many special Booboo Bunny's. Now is the time to get yours with the re-freezing ice cube. Make your child's booboo all better with Booboo Bunny!
Special Price: $5.95
We are proud to introduce you to our friends, won't you help us give them a good home. Each of HOMunniEs bunnies has it's own sticker and certificate to tell who it is. Browse our bunnies to see which one you would like to give a home to.


Baby Bunny
Baby Bunny is specially made for your baby to cuddle with!

Duster Bunny
Duster Bunny does it best, Just dust the dirt away!

Big E. Bunny
Big E. Bunny is a super hero and a great friend!

Gramps Rabbit
Gramps Rabbit has a big heart and ears, great for listening and loving anytime!

Grammy Rabbit
Grammy Rabbit is always there with you giving tender loving care to you.